Skip to Content
What Are Hurricane Fabric Roll-Ups
Hurricane fabric roll-ups come standard with a remote for ease of use! They work perfect for lanais or balconies and deploying them is as simple as pushing a button. For over 25 years, we have helped the Tampa Bay community prepare for hurricane season. We will work with you to help you decide if hurricane fabric roll-ups are right for your home. Give us a call today to schedule your consultation.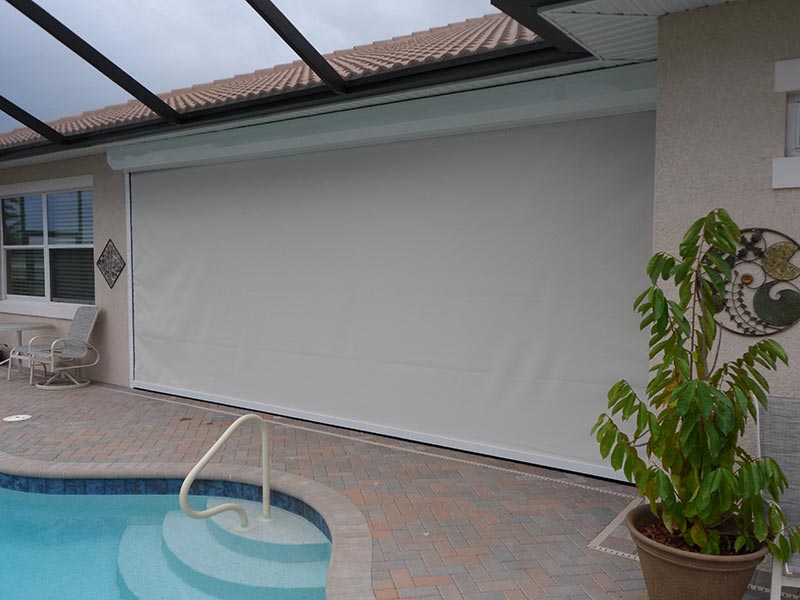 How Hurricane Fabric Roll-Ups Work
Fabric Roll-up Shutters operate similar to aluminum Roll-up shutters. The fabric runs along tracks on the side and is stored in a metal hood when raised. Branches, twigs, and other debris bounce off the fabric. After we are finished installing, you will simply need to use your remote to deploy them as the storm clouds roll in and bring strong winds and heavy rain. Your home is much better protected, and once the storm is over, you can simply roll up the fabric and enjoy the view your property has to offer.
Control Sunlight and Insects With Hurricane Fabric Roll-Ups
Outside of the protection you receive during big storms, hurricane fabric roll-ups can protect you from the harmful ultraviolet (UV) rays of the sun. Helping keep you and your guests cool and mosquito bite free during hot Florida summers.
Contact Us for a Free Estimate!